Clinical Research Day 2023
On 16 February 2023, this year's kick-off into the new research year at the Department of Clinical Research (DKF) took place.
Atle Fretheim, MD PhD, Director of the Centre for Epidemic Interventions Research (CEIR) at the Norwegian Institute of Public Health and Professor at Oslo Metropolitan University gave the keynote lecture on «Rapid implementation of pragmatic clinical trials for health care emergencies». Hereby he shared his experiences with designing and rapidly implementing pragmatic randomized trials of infection control interventions during the pandemic, drawing on examples from clinical care, nursing homes, schools, and the public.
Afterwards, impressive poster and short presentations by the DKF's junior researchers took place. The best ones were awarded.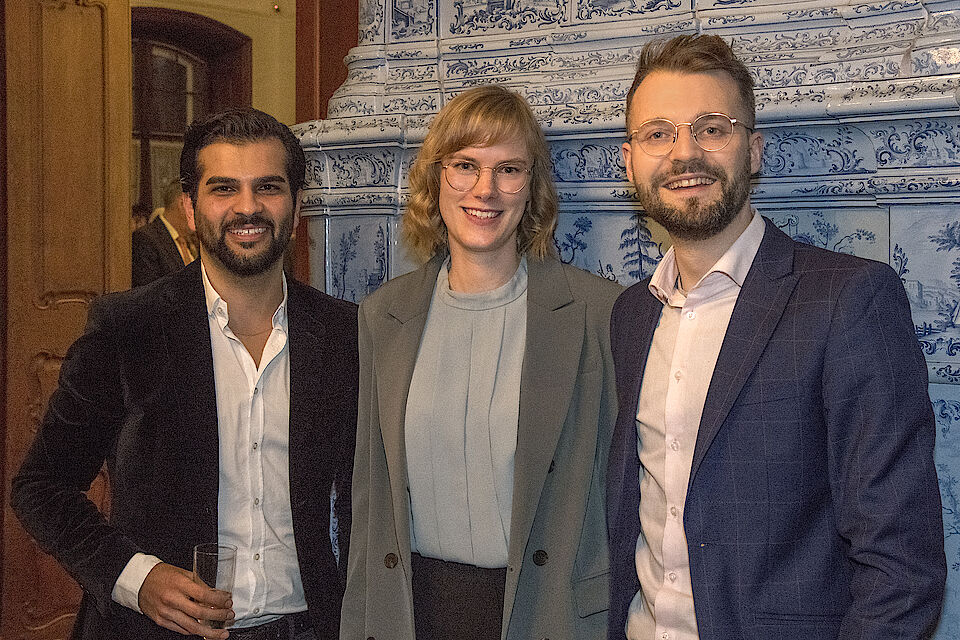 The best short presentations: Alain Amstutz (right), Cihan Atila (left) and Elisa Hennings (centre)
Best short presentations
| | | |
| --- | --- | --- |
| 1st price | Alain Amstutz | Remdesivir in hospitalized patients with COVID-19: Individual patient data meta-analysis |
| 2nd price | Cihan Atila | MDMA provocation test reveals an oxytocin deficiency in patients with central diabetes insipidus |
| 3rd price | Elisa Hennings | Bone morphogenetic protein 10 as predictor for recurrent atrial fibrillation after catheter ablation |
Best poster presentations
| | | |
| --- | --- | --- |
| 1st price | Marcus Mumme | Randomized clinical trial for knee cartilage repair using nasal chondrocytes-based cartilage grafts |
| 2nd price | Pedro Lopez Ayala | External Validation of the myocardial-ischemic-injury-index (MI3) algorithm |
| 3rd price | Aljaz Hojski | Perioperative intravenous lidocaine administration in thoracoscopic surgery |