Getting involved in research - why and how?
What is patient involvement in research?
Medical research is constantly improving diagnostic and treatment options for diseases. Patients play a central role as participants in clinical trials. Thanks to them, important findings about new drugs, surgical procedures or medical devices can be collected for practical use. However, until now they have had little opportunity to contribute to the decisions on which trials are conducted and how they are performed.
Initiatives for patient involvement want to change that. Patients or their caregivers as well as patient representatives should have a say in what kind of research is conducted and how such research projects are carried out: Research with or by rather than on, about or for thoseaffected.
Why should I get involved in research?
As a person affected or affected by a particular condition, you know the condition very well. You know best what it means to live with it. You may have certain expectations about treatment or an idea of what should improve for you and others with the condition. Dialogue with the medical community can help find the best solutions to meet the needs of patients like you.
There are many ways to get involved: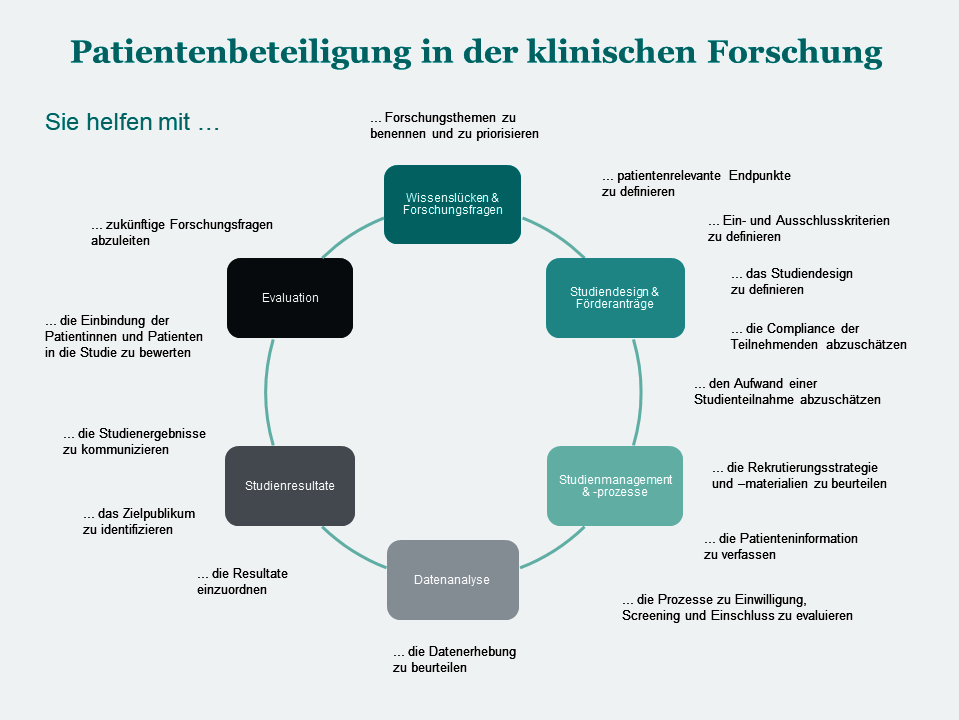 What do I need to know about research?
For most activities, your experience about a relevant disease is crucial. For certain tasks, you also need some basic knowledge about how new findings in medicine are made and what exactly it means to conduct research with people. The organization European Patients' Academy on Therapeutic Innovation(EUPATI) has been developing appropriate training materials and courses for many years. The Swiss national platform EUPATI CH is currently creating a first course in Switzerland together with the Department of Clinical Research (DKF) at the University of Basel. It is to be held for the first time in 2023.