Data from clinical routine for use in research
In order to be able to use health-related personal data generated in routine clinical operations for research purposes, standardized processes for obtaining patient consent (general consent) as well as harmonized guidelines for data request and data output are necessary.
The health-related data collected in the course of clinical routine in hospitals has enormous positive potential, both for health care systems and for the individual health of individual patients. In order to make this potential available to researchers, standardized processes have been developed to enable controlled and secure data exchange (data governance).
Since this involves the handling of sensitive patient data, special attention is paid to compliance with the applicable laws (Human Research Act and Human Research Ordinance, Data Protection Act) and the maintenance of data quality. Researchers should be provided with all available data in a secure format that is suitable for effective data management.
The transfer of of data sets at University Hospital Basel
In cooperation with the unit Research and Analyses Services of the Department of Digitisation & ICT at the USB, headed by Bram Stieltjes, structures were developed that enable access to relevant patient data for the research community today. These structures and procedures were adopted as a USB regulation thus guarantying data retrieval in compliance with applicable legal and ethical requirements.
This is the procedure for researchers to obtain data sets:
Requests for data for use in research projects that fall under the Human Research Act can be made easily and online using the DKF contact form. Researchers, ICT staff and consulting experts from the DKF then sit down together at the table to clarify whether the desired data is available and whether the research project can be successfully carried out with it.
This also includes an assessment of the category in which the project would fall under the Human Research Act.
This categorisation is important in order to derive the necessary legal and ethical clarifications. The consulting team asks itself three key questions:
Is an ethics vote required, or is it already available?


Does the patient consent to the requested data (for example, in the form of the general consensus)?


How is the release of data legally secured (for example, through a data use declaration)?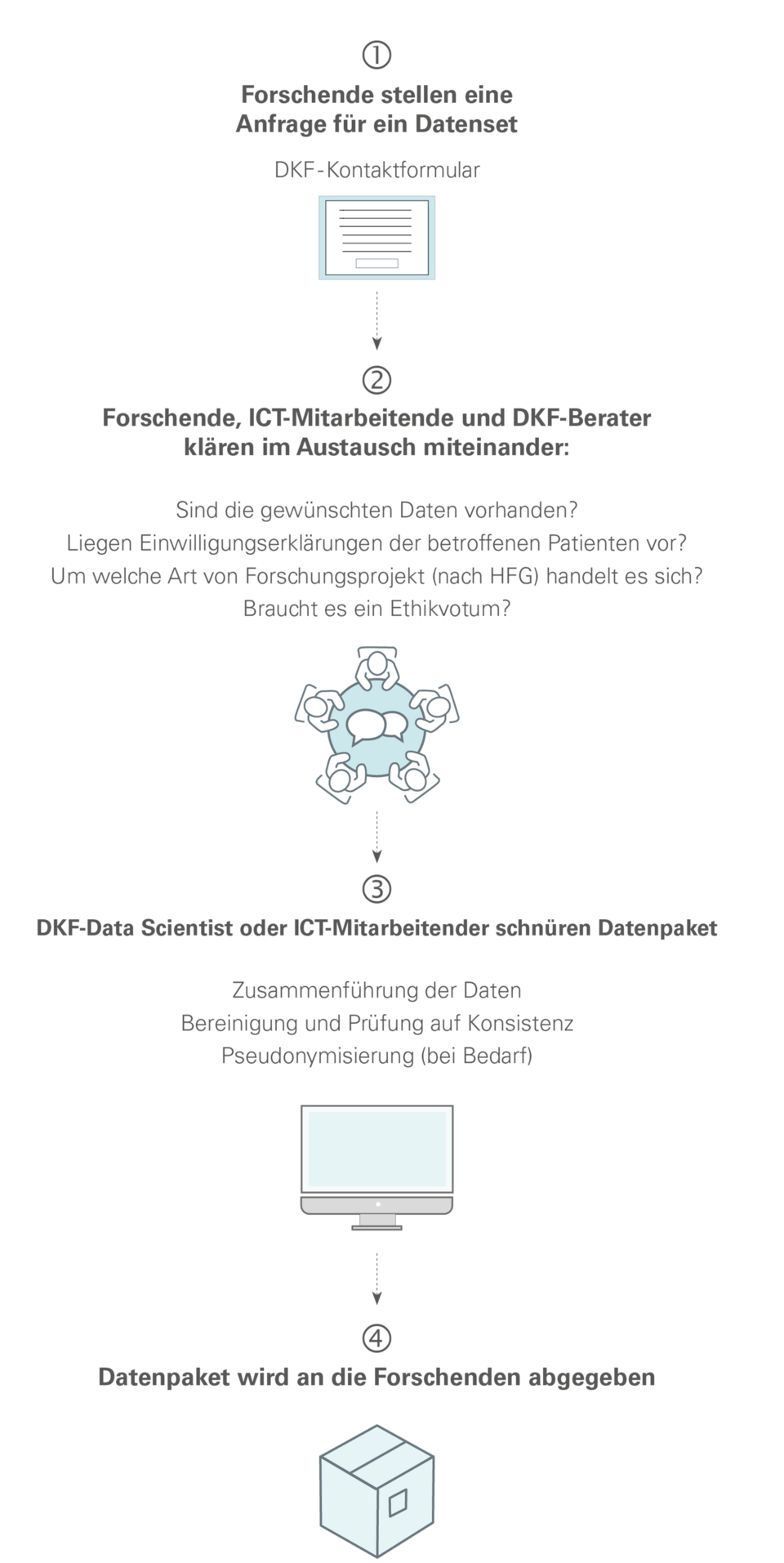 Once these points have been clarified, valid data sets can be made available to researchers. This procedure is intended to ensure that researchers at the USB can use data from routine clinical examinations to find answers to urgent and patient-relevant research questions as efficiently as possible.