31 October 2022
A blood marker for multiple sclerosis progression
For the third time in a row, Jens Kuhle, Head of Multiple Sclerosis Centre at the University Hospital Basel and DKF/DBM research group leader, is awarded an SNF project grant for the development of biomarkers for the detection and prognosis of disease activity in multiple sclerosis (MS) on a personalised level.

This recent award underscores the importance of research in this area and highlights the potential of cohort studies such as the Swiss MS Cohort (SMSC). The group of Basel researchers from the MS Center, Neurology and the Research Center for Clinical Neuroimmunology and Neuroscience (RC2NB) were also very present with their topics at this year's congress of the "European Committee for Treatment and Research in Multiple Sclerosis" in Amsterdam. They provided more than 60 contributions and several presentations, among them especially noteworthy the "Young Investigator Awards" for Stephanie Meier, PhD student of Clinical Neuroimmunology at DBM, DKF and Neurology, for the best presentation entitled "Serum glial fibrillary acidic protein compared with neurofilament light chain as biomarker for multiple sclerosis disease progression".

A first biomarker finds application in clinical practice
The research group led by Prof. Jens Kuhle has recently set new standards for more precise and personalised therapy decisions with the establishment of the biomarker "neurofilament light chain (NfL)" as a standardised measure for neuronal damage easily detectable in blood. Their work, published in March in the journal The Lancet Neurology, shows that a proportion of patients with apparently stable disease nevertheless have high NfL levels. These individuals show more clinical and imaging disease activity in the following year. NfL, it could be concluded, detects disease progression early and more sensitively and consequently allows identification of cases that may develop long-term and rather unnoticed disabilities. These patients can now be treated in a more targeted and predictive manner based on the new prognostic measure NfL.

Better understanding disease mechanisms and developing new biomarkers
However, NfL only represents part of the pathogenesis of MS. Therefore, to get a more complete picture of the disease mechanisms, additional biomarkers are needed. One such biomarker is "glial fibrillary acidic protein (GFAP)", a cytoskeletal protein that is predominantly specific for astrocytes and whose blood levels are elevated as a consequence of an increase in the activation of astrocytes or their death. Astrocytes play a central role in neurodegenerative processes and thus in disability progression. GFAP thus offers itself as a biomarker for MS progression. In the research project now funded by the SNSF, the aim is to better understand the relationship between GFAP and the development of brain lesions as well as brain atrophy and to investigate the prognostic potential of this marker for future progression of MS-related disability, thus establishing GFAP as a measurable value in blood for clinical and research applications.

The data basis
The Swiss MS Cohort, initiated and managed from Basel since 2012, provides unique conditions for such biomarker research, also in international cross-comparison. SMSC is one of the largest international databases for clinical research on MS and includes data from over 1600 patients from 8 Swiss centers. It documents information from over 11 000 visits and almost 4500 relapses and includes about 6500 standardized and evaluated MRI examinations.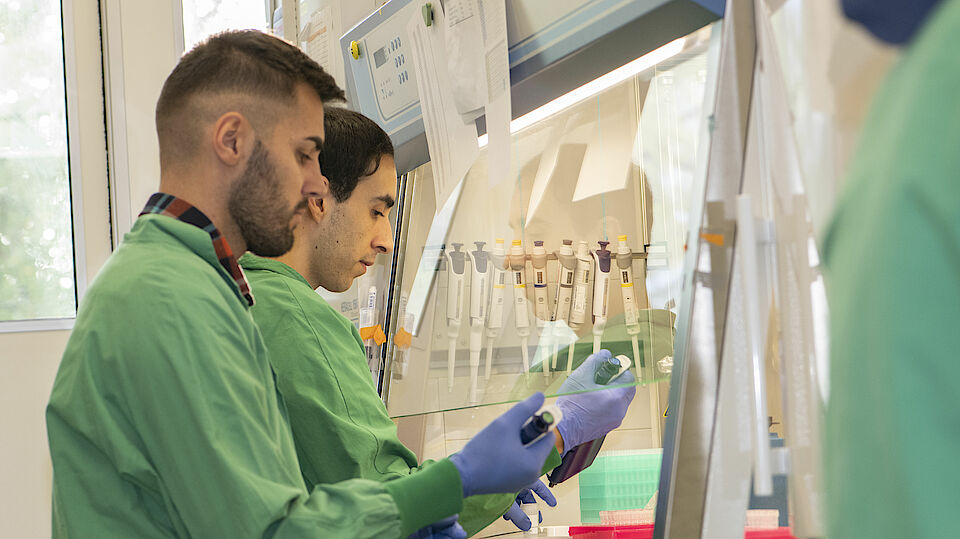 The biomarker laboratory of the Jens Kuhle research group at the DBM. The picture shows the two lab technicians Juan Gomez and Amar Zadic.