2 May 2022
Organisation of professional project management
The IRASPEN registry is to provide answers to a special form of psoriasis that has hardly been researched to date. The DKF supports the coordination of the international data collection.
IRASPEN is a prospective, non-interventional study registry for psoriasis pustulosa, a rare special form of the skin disease psoriasis. Global project management for this registry is the responsibility of Ivana Cvijetic, MSc, Head of Clinical Research in the DKF Research Group of Prof. Alexander Navarini (Dermatology/USB), together with Sina Hansen, PhD, Scientific Officer at the DKF. For this project, a clear division of tasks has proven successful: Sina Hansen supports the centre in the submission phase, Ivana Cvijetic opens the centres and is responsible for the study setup at each centre.
The research group will investigate the clinical course and response to already established treatments of "Psoriasis Pustulosa". Over a period of five years, an extensive prospective data collection will be established and biological material will be included. It is planned to involve at least 15 centres in ten countries.
Multinational multitasking
Professional project management can thus be crucial for the quality of a complex long-term project like IRASPEN. Sina Hansen describes her experience as follows: "It takes someone to keep track of everything and act as a central contact for all the centres and support them. Physicians are often too busy with their daily clinical work to additionally coordinate a large-scale project - especially larger, multicentre studies." The main focus of project management is on timelines, recruitment rates and budget, explains Ivana Cvijetic. She adds, "For a 'mammoth' project like IRASPEN, it is important to have a qualified person who not only oversees the centres, but also motivates them. The opportunity to temporarily bring Sina Hansen as an experienced project manager to the IRASPEN team suits us very well. We appreciate the cooperation and the flexibility that DKF offers us very much.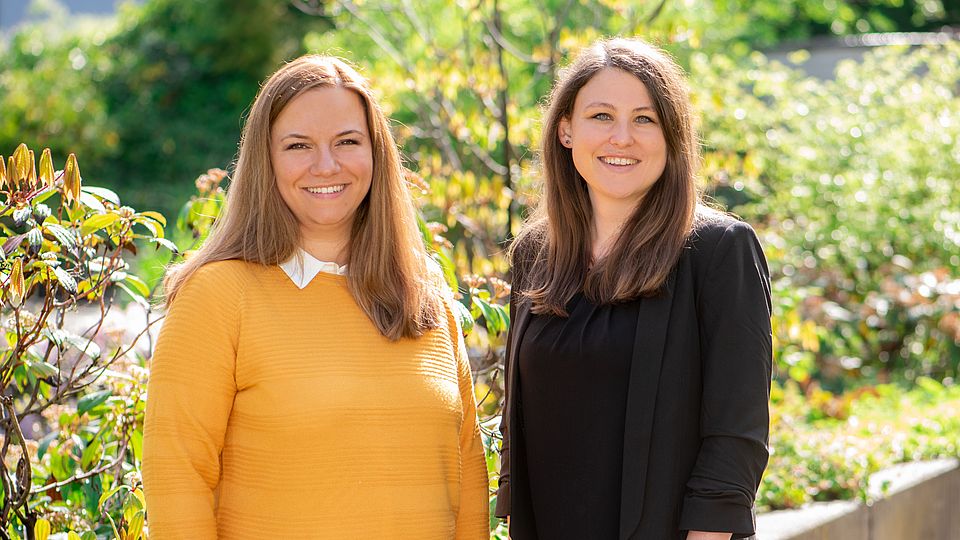 "Good project management starts with the coordination of the different teams involved in the planning and budgeting process."
Ivana Cvijetic, MSc, Head of Clinical Research in the DKF Research Group of Prof. Alexander Navarini (Dermatology/USB) and Sina Hansen, PhD, Scientific Officer at DKF.
---
Project management of an international, multi-centre study is a particular challenge due to the complexity, language diversity, and different regulatory and ethical requirements. This is already evident in the preparation of patient information. Different versions are required for the various age groups, which in turn must be available in different language versions. In addition, samples are collected. Their transfer from the individual centres to Switzerland and the appropriate storage in a biobank requires careful planning.
The DKF project management team accompanies various clinical research groups from different disciplines through all phases of their research projects - from concept to planning to execution to completion. Schedule, quality, and the use of usually scarce financial and human resources are always kept in mind. Each project is unique and each research team requires a different support model, be it a temporary engagement or a complex overall coordination. Crucial for a smooth project flow, and this applies to all projects, are constant interaction with the numerous contributors, clear assignment of responsibilities, and transparent processes.
IRASPEN
InternationalRareAndSeverePsoriasisExpertNetwork (IRASPEN) - A Prospective Registry with Genotype-Phenotype Correlation
Principal Investigators
Prof. Alexander Navarini (USB), PI
PD Dr. Julia-Tatjana Maul (USZ), Co-PI
Study Design
International, multicenter, non-interventional, prospective registry
Number of planned study centres
15 centers in 10 countries
Number of planned patients
180
Project duration
2020-2031
Aim
Pustular psoriasis is a rare special form of psoriasis in which sterile pustules form on psoriasis foci. The skin disease can significantly limit the quality of life of patients. The causes are still largely unknown. IRASPEN will for the first time provide data on the disease burden, frequency and severity of disease episodes, genetic risk factors and other relevant questions.
DKF support
Project Management, Regulatory Affairs, Data Management