1 February 2023
Research as a basis for political decisions
The results of the WEED-CARE study will provide a sound basis for discussion on the legal regulation of cannabis dispensing in Switzerland. The DKF accompanies the study scientifically and takes over important operational activities.
Studies with cannabis for pleasure purposes are possible because in 2021, within the Narcotics Law, the "Experimental Article for Pilot Trials with Cannabis in Switzerland" came into force. The Federal Office of Public Health (FOPH) thus enables scientific pilot trials with cannabis for pleasure purposes that are limited in time and place. The first study in Switzerland based on this change in the law is now starting in Basel-Stadt: the WEED-CARE study.
The study, conducted by the Department of Health of Basel-Stadt, the University Psychiatric Clinics (UPK) Basel, the Psychiatric Services Aargau (PDAG) and the University of Basel, investigates how a regulated sale of cannabis through pharmacies compares to the current situation, i.e. the illegal acquisition of cannabis, on the consumption behavior and health of the study participants. A key argument in favor of controlled dispensing in pharmacies is that certain quality requirements are placed on the production and processing. The study cannabis is free of pesticides, impurities and synthetic cannabinoids and has been approved by the FOPH for this study. In addition, the active ingredient content is declared.
The study center for this is located at DKF. The staff of the on-site management team will supervise the study participants and conduct the examinations. A total of 370 people will be enrolled in the study. The DKF's Outpatient Study Center (ASZ) offers optimal conditions for the complex project. For example, an additional room with the appropriate equipment was set up in which the personal study ID card can be created in a legally secure manner. All participants need this card to identify themselves to pharmacies and the police.
Other DKF services such as regulatory affairs, data analysis/statistics and data management are involved throughout the entire study process.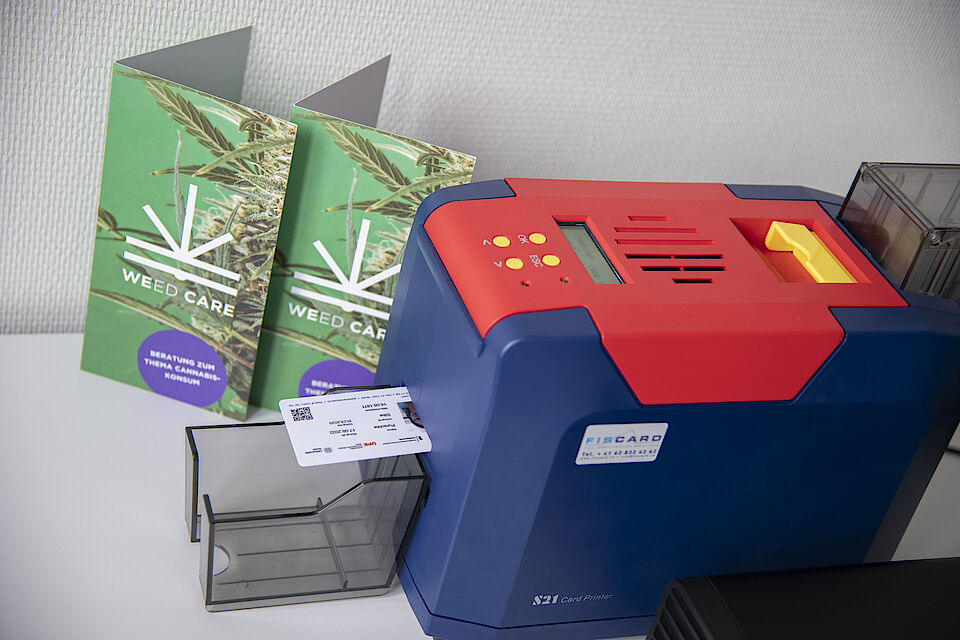 Cannabis can only be obtained at selected dispensaries upon presentation of a personal study ID card.
WEED-CARE study
Start of cannabis sales: end of January 2023
Study participants: 374 people with regular cannabis use
Random assignment to:
Group 1 can purchase cannabis immediately from selected dispensaries.
Group 2 can do so with a six-month delay.
Endpoints: consumption patterns, health, satisfaction with regulation
Study duration: 2.5 years in total
WEED Care Website