What is a QMS?
A quality management system (QMS) is a control system for a planned and systematic procedure to maintain or improve quality. A QMS consists of processes, guidelines and templates that describe the standardized procedure to achieve comparable quality of work results. This avoids mistakes instead of eliminating them at the end of the work process at high costs.

A QMS consists of different document types:

Quality Manual: Description of the organization and overview of all processes
SOPs: Work processes and responsibilities
Templates: forms and document templates for data and report entry
Records: data, reports, documents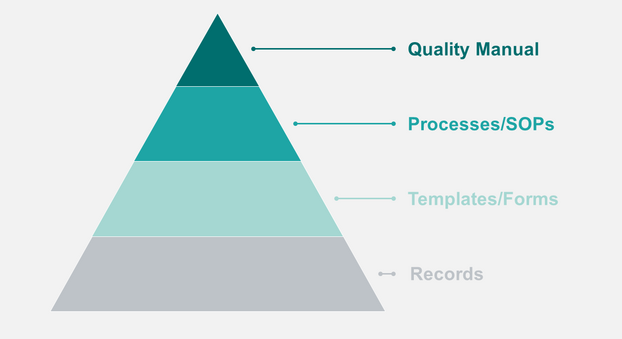 Why do clinical studies need a QMS?
In clinical research, we have a legal obligation to collect traceable data and to produce reproducible results. In addition, we have a special responsibility to the participating patients. Guaranteeing the dignity, personality and health of study participants is one of the highest principles to which researchers and all their staff are committed.

A QMS helps to achieve the following goals:
Ensure safety & protection of study participants
Ensure quality of study data
Creating an overview and transparency of study activities
Create necessary documentation
Increase efficiency in the conduct of studies
Guarantee compliance with ICH-GCP, local and international laws
To be fit for (Swissmedic) inspections
Legal framework
The Swiss Human Research Act (HRA) and the Ordinance on Clinical Trials in Human Research (ClinO) stipulate that clinical trials must be conducted in accordance with the International Guidelines of Good Clinical Practice. The sponsor of the study is responsible for this. In Investigator-initiated Trials (IIT) in the academic environment, this is the sponsor-investigator, usually the research group leader. The QMS is the tool to prove that the legal requirements are met by the study.