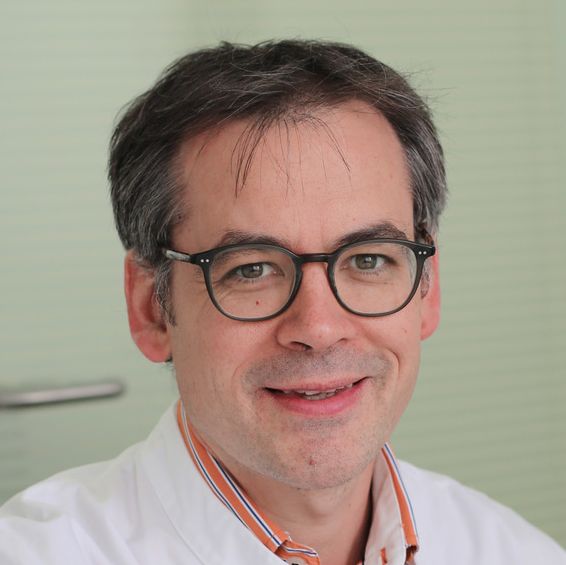 Prof.
Andreas A. Müller, MD, PhD, MABA
Position(s)
Head Cleft lip and palate surgery and Attending Surgeon,
Oral- and Craniomaxillofacial Surgery
Institution
University Hospital Basel &
University Children's Hospital Basel
Phone +41 61 328 60 95
Read more
Research Group Andreas A. Müller
Research Focus
Regenerative Medicine & Biomechanics
Area of Research
Facial and cranial malformations, especially cleft lips, jaws and palate:
Cleft Lip and Palate treatment, in particular approaches to reduce the burden of care, comprising the combined lip and palate repair and machine learning strategies.
Regenerative medicine strategies by use of scaffolds and cellular components, including from human umbilical cord.
Advancement of surgical therapies, namely related to precision surgical anatomy, microcirculation and microsurgery.
Approved Research Projects
Burden Reduced Cleft Care and Healing, The Botnar Research Centre for Child Health (www.brc.ch), Multi-Investigator Project 2020-2025: Mueller AA, Solenthaler B, Gross M, Reddy GS, Brudnicki A
Learning-based 3D Infant Face and Head Model for Medical Application, Swiss National Science Foundation 2022-2025; Mueller AA, Solenthaler B, Gross M
Collaborations
National Collaborations
Dr. Dr. Marcello Augello, Mund-, Kiefer- und Gesichtschirurgie, Kantonsspital Aarau
Prof. Dr.-Ing. Markus Gross, Computer Graphics Laboratory ETH Zurich & Disney Research Laboratory Zurich
Dr. sc. Barbara Solenthaler, Simulation and Animation at Computer Graphics Laboratory, ETH Zurich
Prof. Dr. med. Dr. med. dent. Christoph Sebastian Leiggener, PD Dr. med. Dr. med. dent. Philipp Metzler, Mund-, Kiefer- und Gesichtschirurgie, Kopf- und Halskrebszentrum, Kantonsspital Aarau
International Collaborations
Assistent Professor Andrzej Brudnicki, Institute of Mother and Child, Department of Surgery of Children and Adolescents, Warsaw, Poland
Prof. Dr. Bernard Devauchelle, Stomatologie et Chirurgie Maxillo-Faciale & Institute Faire Faces, Centre Hospitalier Universitaire, Amiens, France
Prof. Dr. Srinivas Gosla Reddy, G.S.R. Institute of Craniofacial and Facial Plastic Surgery, Hyderabad, India
Dr. Bruno Grollemund, Orthopédie Dento-Facial, Centre Hospitalier Régional et Universitaire Strasbourg, France
Prof. Colin McGuckin, CTIBiotech, Meyzieu Lyon, France
Prof. Dr. Alex Vargas Díaz, Department of Oncological and Maxillofacial Surgery, Division of Surgery, Faculty of Medicine, Pontifical Catholic University, Chile
Prof. Dr. Marcia Corvetto Aqueveque, Department of Anesthesiology, Division of Surgery, Faculty of Medicine, Pontifical Catholic University, Chile
Dr. Althaf Hussain, Cleft and Craniofacial Centre, Sri Ramachandra University
Dr. R.V.M. Surya Rao, Plastic Surgery, Saveetha University
Ongoing Research Projects
Burden Reduced Cleft Care and Healing
Implications from precision surgical anatomy for modern craniofacial paediatrics
Presurgical orthopaedics in cleft lip and palate, three dimensional platal shape change and its surgical implication
In house manufacturing of an anatomical cleft lip and palate model for education and surgical Training
Cephalometric craniofacial growth analysis after combined cleft lip and palate repair with and without primary bone grafting
Intraoperative Assessment of the Influence of Cleft Repair on Microcirculation of the Palate
Volume stability of secondary alveolar bone grafting
Digital workflow for personalized presurgical plate therapy
Development of robot-guided laser osteotome (CARLO® device)
Clinical application of statistical infant face and head model in craniofacial malformation