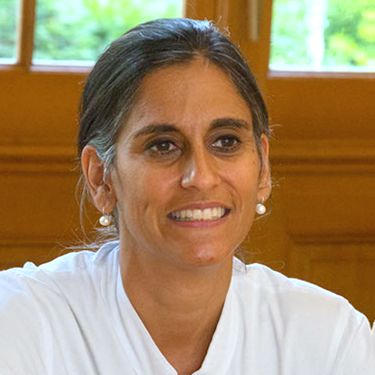 Prof. Nina
Khanna Gremmelmaier, MD
Position(s)
Leading Senior Physician, Division of Infectious Diseases & Hospital Epidemiology, University Hospital Basel
Research Group Leader, Department of Biomedicine Infection Biology, University of Basel
Institution
University Hospital Basel
Phone +41 61 328 73 25
Research Group Nina Khanna Gremmelmaier
Research Focus
Immunology & Infectious Diseases
Area of Research
Viral and fungal infections, especially in immunocompromised patients. Evaluation of new immune biomarkers and new immunotherapeutic strategies
Approved Research Projects
2021 – 2025 Epstein-Barr Virus-specific T Memory Stem Cell Therapy to Treat EBV-driven Lymphomas/Diseases, first trial with adoptive transfer of antigen-specific T memory stem cells for EBV-specific T-cell therapy; insights into fate of these cells after infusion into patients

2021

–

2024 University Hospital of Basel: Innovation Focus Cell Therapy

2021 Propatient Research Grant: Third-Party Donor Registry for Personalized antiviral T-cell Immunotherapeutics

2020 – 2024 Swiss National Science Foundation. National Center of Competence in Research (NCCR) AntiResist
2018 Bangerter–Rhyner Grant: A Phase I/II single-center study to assess safety and feasibility of virus-specific T cells of 3rd party donors in patients with treatment-refractory viral infections
2018 – 2022 Project Partner Swiss National Science Foundation. Investigator Initiated Clinical Trials (IICT): Using Genetic Risk Factors to Stratify Antifungal Prophylaxis in Patients with Acute Myeloid Leukemia
2018 Debiopharm International S.A: Evaluation of Debio 1450 against 24-h biofilm in mouse tissue cage model (combination with: nafcillin, cefazolin, clindamycin, linezolid)
2017 Bangerter–Rhyner Grant: Immune-metabolic changes in neutrophils, monocytes and lymphocytes in patients suffering from gram-negative sepsis
2016 Swiss Transplant Cohort Study. Evolution of mold-specific T cells and NK cells and impact of T-helper 1 Cytokine and Natural Killer (NK) Cell Candidate Genes and on the Development and Outcome of Invasive Mold Infections in Patients after Allogeneic Hematopoietic Stem Cell Transplantation
2013 Commission for Technology and Innovation CTI: "HIT to LEAD to preclinical candidate development of a transcription repressor inhibitory compound (TRIC) that increase antibiotic susceptibility of multidrug resistant staphylococci"
2013 Swiss National Science Foundation: Relevance of different CD4+ T cell subsets for antifungal defense. What is aberrant in immunocompromised patients?
Collaborations
National Collaborations
2021 – present ESP Working Group, Medical Faculty, University of Basel
2020 – present Scientific Advisory Committee, Propatient – Research Foundation, University Hospital Basel
2020 – present Structural Commission for Professorship of Hematology Stem Cell Research, University of Basel
2020 – present Appeals Committee for Professorship of the Clinical Epidemiology, University of Basel
2019 – present Leader of Clinical Studies and Member of executive board of National Center of Competence in Research (NCCR) AntiResist
2018 – present Subcommission for the Promotion of Young Researchers (= SK2), University of Basel
2017 – present Swisstransplant Arbeitsgruppe Infektiologie (STAI), representative from the USB
2016 – present Scientific Advising for the Swiss Society for Infectious Diseases
2014 – present Advisory boards on Anti-infectives for Pfizer, Switzerland
2013 – present Advisory boards on Anti-infectives for Merck Sharp Dohme, Switzerland
2010 – present Fungal Infection Network of Switzerland (FUNGINOS); President since 2021
2008 – present Infectious Diseases Working Group, Swiss Transplant cohort Study (STCS)
2014 – 2018 Steering Committee of the University Basel Immunology Community (UBICO)
2008 – present Schweizerische Gesellschaft für Infektiologie (SGINF)
2001 – present Schweizerische Medizinische Gesellschaft (FMH)

2021

– present

Management Team Innovation Focus Cell Therapy
International Collaborations
2018 – present ESCMID Study Group for Immunocompromised Hosts
2018 – present ESCMID Study Group Fungal Infection Study Group
2018 – present Member of Data safety montoring board for Allecra Therapeutics SAS, France
2017 – present Consultancy on respiratory infection research for Janssen Pharmaceuticals
2014 – present Advisory boards on Antifungals for Gilead Science, DACH (Germany, Austria, CH)
2013 – present European Society of Clinical Microbiology and Infectious Diseases (ESCMID)
Ongoing Research Projects
2021 – 2025 Epstein-Barr Virus-specific T Memory Stem Cell Therapy to Treat EBV-driven Lymphomas/Diseases, first trial with adoptive transfer of antigen-specific T memory stem cells for EBV-specific T-cell therapy; insights into fate of these cells after infusion into patients

2021

– 2024

University Hospital of Basel: Innovation Focus Cell Therapy

2021 Propatient Research Grant: Third-Party Donor Registry for Personalized antiviral T-cell Immunotherapeutic

2020 – 2024 Swiss National Science Foundation. National Center of Competence in Research (NCCR) AntiResist
2018 – 2022 Project Partner Swiss National Science Foundation. Investigator Initiated Clinical Trials (IICT): Using Genetic Risk Factors to Stratify Antifungal Prophylaxis in Patients with Acute Myeloid Leukemia